PICTURESQUE CLARE VALLEY AND THE POLISH CONNECTION
The Clare Valley (a 140km north of Adelaide, South Australia) is famous for its wines and food.
Amongst such wineries as Pikes, Paullets, Skillagee, Sevenhill, and Wilson lies a region called Polish Hill River, with its historic Church of Saint Stanislaus (Stanisław) Kostka, and a museum of Polish migration to South Australia, which commenced in the 1850's.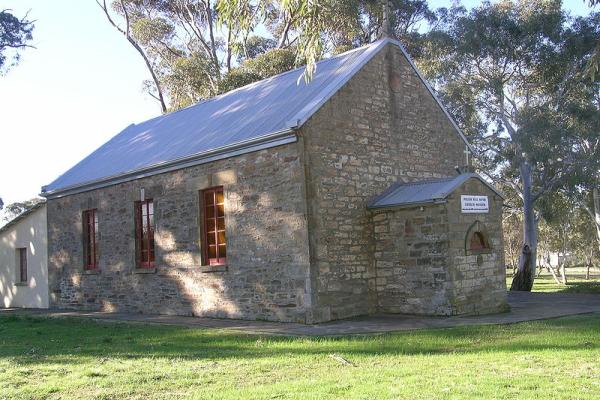 Church of Saint Stanislaus (Stanisław) Kostka today
South Australia is a State extremely proud of its origins and the successful multicultural composition.  Initially settled by immigrants from  the British Empire, South Australia soon developed an ethnic diversity by enticing people from around the world, mainly from restless Europe, among them Poles from Central Europe.
EARLY BEGINNINGS
The history of Clare Valley and surrounding districts commences with the arrival of the HMS Buffalo in 1836.  William John Hill explored the region, discovering the Clare Valley in 1838.  By 1848 some Jesuit priests - banished from most of Europe - had arrived in the district known as Sevenhill, to join and support the English, Irish, Polish, German and Silesian settlers.  These settlers were predominantly farmers who (among other supplies) brought in grapevines, and commenced setting up the vineyards - the ancestors of the famous vineyards in this prestigious wine region of today.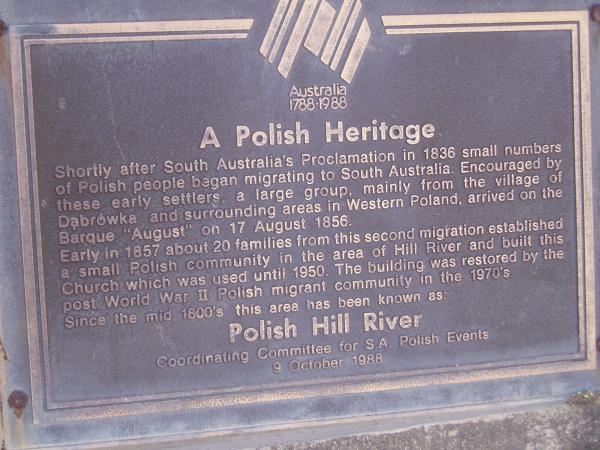 Early arrivals
A PIONEERING TIME
The year is 1836 and in London the English Parliament proclaims South Australia a Sovereign State of Australia.  A free state is established and on hearing the news, Pastor Kavel in Hamburg journeyed to London in the same year to seek assistance in the movement of emigrants out of the territories under Prussian domination.  A further two years passes, before the Prussian government agrees to issue passports.
SHIPS SET SAIL
First the "Prince George" sets sail and in November 1838, conveying Pastor Kavel and his flock of mostly members of the Lutheran faith, arrives at Port Misery (now Port Adelaide), bringing predominantly German migrants and several people with Polish names.
On 11 September 1844, the ship "George Washington" arrives with 164 passengers.  Among them are four Polish families from the Prussian province town of Gross Dammer (now Dąbrówka Wielkopolska in Poland): Młodystach, Wallent, Krollig and Stanitzki.  They first settled in the Barossa Valley near Tanunda.
It is hard to imagine having to spend 4 months, from May to September, on a small ship, on rough seas, with sea sickness, basic rations and the needs of small children to be met.  Joy comes to one family, when at sea Franciszka, wife of Szymon Młodystach gives birth to a baby boy, James.
News of the journey is published in "The Observer" which reports (in part): "Three adults and three children died and there were eight births.  The emigrants are from several parts of Germany, East Prussia and the Polish frontier.  They appear to be a very able bodied and orderly set and are in excellent spirits.  They consist principally of the agricultural classes with a sprinkling of smiths and other handicraftsmen and a good proportion of young men and women fit for domestic service".
On 17 August 1856 the ship "August" arrives with 231 passengers on board, including 131 Poles.  The voyage took three months and 11 days.  Records show one birth and no deaths during the voyage.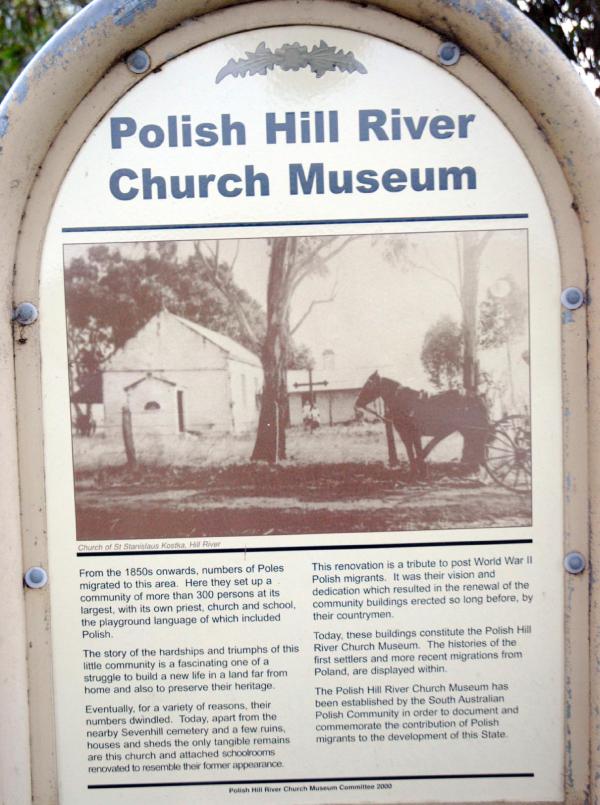 Polish settlers
A NEW LITTLE POLAND
The first group of Polish pioneers who arrived in 1856 have played such an important part in the region that their names still live on in names of places, roads, and trails, for example: the Father Rogalski Loop, Pawelski Road, Rucioch Road, and Polish Hill River Road.
Those immigrants came from places in Europe, that - up until 1795 - used to be their Homeland, the Polish-Lithuanian Commonwealth which had been wiped from the map of Europe by Prussia, Austria and Russia (see the short history of Poland in the Annex).
For such close-knit families, the area named Hill River after William John Hill became their "New Little Poland", with a Polish community forming around the church of Saint Stanislaus (Stanisław) Kostka, and a community school.
A POLISH FAMILY REUNION THROUGH A TREK NORTH
Among the Polish group of 1856 were Stanisław Młodystach with his wife and three children, a brother of the 1844 migrant Szymon Młodystach and Szymon's cousin, Casper Młodystach with his wife.
The Poles travelled north by bullock teams and with most of the adults probably walking, settling in Sevenhill, Penwortham, Emu Flat, Clare and Mintaro with the largest group at Hill River.
This largest settlement resulted in a name change to Polish Hill River.
The beginnings of the settlement were very difficult with some settlers living in dug-outs and hollow trees at first.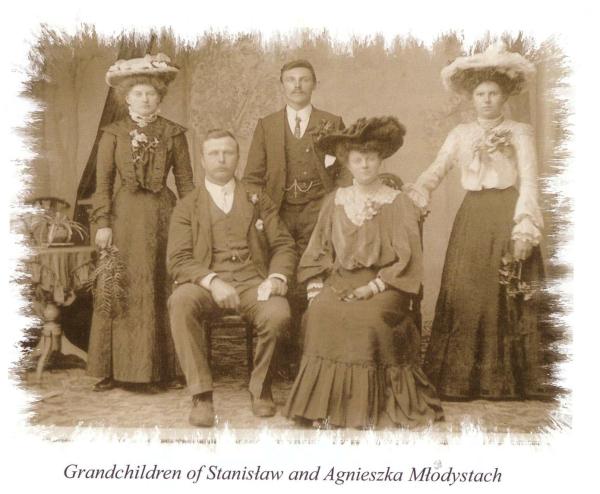 Grandchildren of S. and A. Mlodystach
POLES BECOME LANDOWNERS AND PARTICIPATE IN CIVIL AFFAIRS
In 1857 the first Pole to buy land at Hill River was recorded under the surname of Niemiec. Another Pole, John Nykiel bought and sold land, established a butcher shop and became a vigneron, making wine for the next 30 years.
By this time the South Australian population was 63,700. Poles played their part in the civic affairs of the area. The first to become a member of the District Council of Clare was Dr A. Sokołowski and later Michał Ruciak, Karol Kozłowski, Tomasz Niemiec, Jan Nykiel and Małycha.
POLISH COLOUR AND PRIDE
These days only tumbled ruins remain of a number of the small stone cottages at Polish Hill River, a few kilometres east of historic Sevenhill.  These remind us that 150 years ago a unique settlement of Polish immigrants existed in the area.  The ruins of these cottages show that they were very tiny by today's standards. The migrating Polish folk were peasants from crowded areas of Europe, where the intense cold of winter encouraged the building of small homes — the smaller the rooms, the easier they were to keep them warm.  The new arrivals built according to tradition.  Doors, verandah posts, window frames and sashes were often treated with a bright mixture of blues, reds and pinks, which showed up vividly against a white wall background, with some of the houses having their colours renewed each year.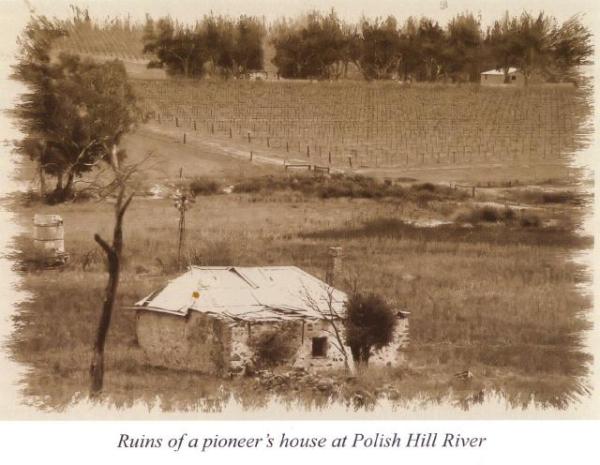 Ruins of a cottage
The dress of the Polish women at Sevenhill matched the brightness of some of the houses.  They were often sky-blue and made of a material that was frequently laundered.  The head-dress was usually a hood-bonnet, completely covering the head, tied with long bow ribbons under the chin, and the flaps wide enough to cover part of the shoulders.  Women so dressed with a heavy wicker basket on each arm, were often seen trudging from Sevenhill to Clare.  Each basket was filled with butter or other products for sale in the town.  Having disposed of their burden, they returned with the basket filled with groceries and other household needs.  Such was the pride in their clothes that they preferred to walk the long distance there and back rather than take up an offer of a ride from a friendly drayman or wagoner, since the wagon or dray seats were not always good for nicely laundered clothing.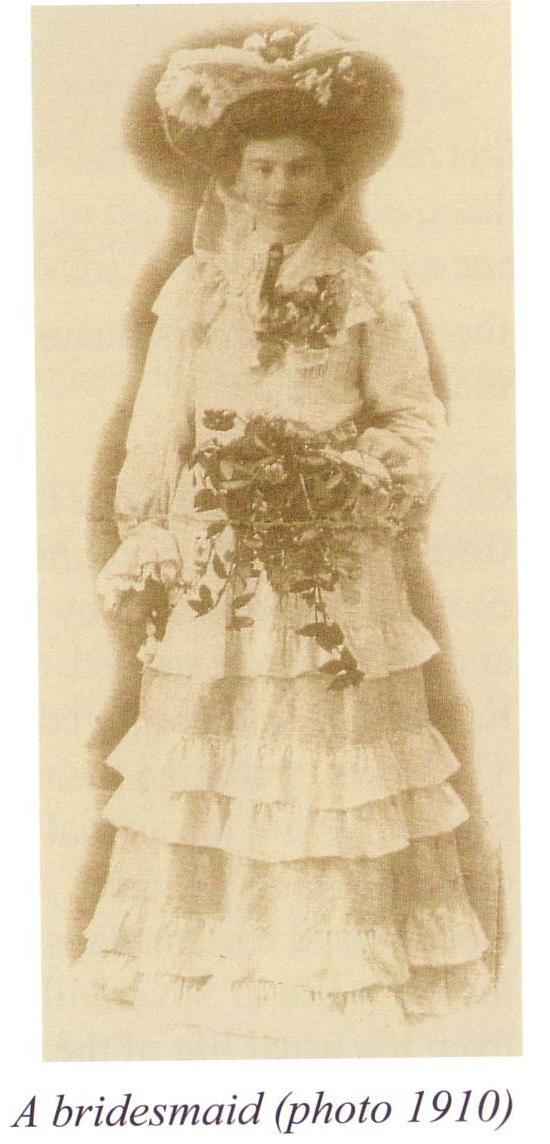 Polish bride (1910)
PROVIDING FOR THE FAMILY
Most of the Polish settlers were only part-time farmers.  Their small holdings allowed for little else.  Whole families (the women included) worked the land to provide food for the household — a few pigs, a cow or two, some poultry and a well-kept plot of vegetables saw to that.  While the women attended to this work, the men went out seeking employment as carpenters, bricklayers, butchers, boot makers and general labourers.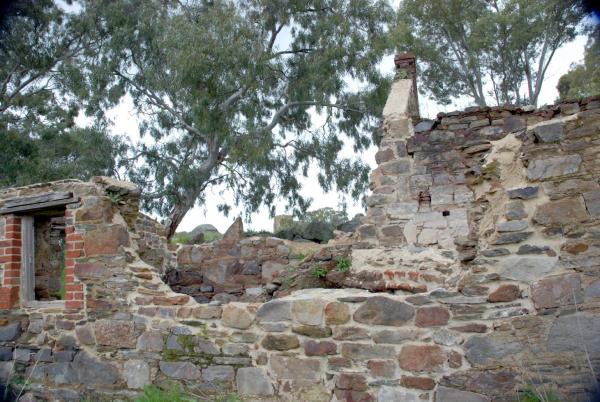 Ruins of another house
FIRST POLISH SURGEON IN AUSTRALIA
One outstanding early Polish settler was Dr Anton Sokołowski, who came as ship's surgeon on The Alfred.  This was the vessel which brought the Weikert family and the first Jesuits to the Clare district.  Sokołowski later married Weikert's daughter, Pauline.  He was the first Polish surgeon in Australia.  Once settled, he became a farmer as well as being a doctor.  Because all calls were made on horseback, the good doctor kept a number of fine riding horses.  He covered long distances, and after attending a sick or injured person, he often found that a traveller had arrived, and was waiting to take him to another patient.  Sometimes it was days before he was able to return home.  He had a special chestnut horse which he kept for night work.  Dr Sokołowski was a clever surgeon and skilful with maternity cases.  He practised bloodletting and if a patient was subject to headaches, he used live leeches to draw off some "bad" blood.  If the headaches were severe he resorted to "cupping".  
In 1862 Dr Sokolowski suffered a fatal heart attack when returning from one of his acts of mercy — his death was deeply mourned.  He was buried in St Mark's churchyard at Penwortham, in a tomb elaborately engraved with grapes and sunflowers and the following inscription: "Long will he live in the memory of those whom he relieved, and the tears of his mourning widow and the suffering poor for whom he spent his life, will long yet witness his truly Christian charity.  May he rest in peace."
TRAGEDY AND PAIN
Historical records, scant in detail of this early period, do in their pages contain tragic stories of some of the Hill River families.  One of the saddest centres around Antonina Rucioch.  In the brief space of a few months her world fell about her with the death of her husband Bartholomew from pneumonia in November 1869 followed by deaths of six of her children from diphtheria between September and October the next year.
Lawrence Konopka was another of the early settlers at Polish Hill River.  To augment the family income, he had a bullock team which he used to cart copper ore from the Burra Mine to Port Henry (today's Port Wakefield).  This work took him away from home sometimes for weeks on end.  On returning home after such an absence, he was greeted by the sight of his little three-year-old daughter sitting on the back step, waiting to tell him that she could not waken her mother.  Konopka found that his wife had died during his absence and the small child had been alone with her mother's body for some days.
CREATING A UNIQUELY POLISH COMMUNITY
These Polish people were devout Catholics and greatly felt the need of spiritual care in their mother tongue.  A committee was formed to bring a Polish priest from Europe to minister to the people in their own language. They also wished to build a church and establish a school, where, as well as other subjects, the Polish language could be taught.  Jan Nykiel offered two acres of his land, local stone was used to save scarce cash, and the work associated with building the church was mostly carried out by the migrant settlers themselves. Even the nails were made locally by a Polish blacksmith.
On April 7, 1870 Father Leon Rogalski, a member of the Jesuit Order, arrived from Krakow, and commenced visiting people in their homes, travelling on foot, by horseback or by buggy. His arrival spurred on the building program and the church named after Saint Stanisław Kostka, the patron saint of Krakow, was consecrated by Bishop Shiel on November 3, 1871.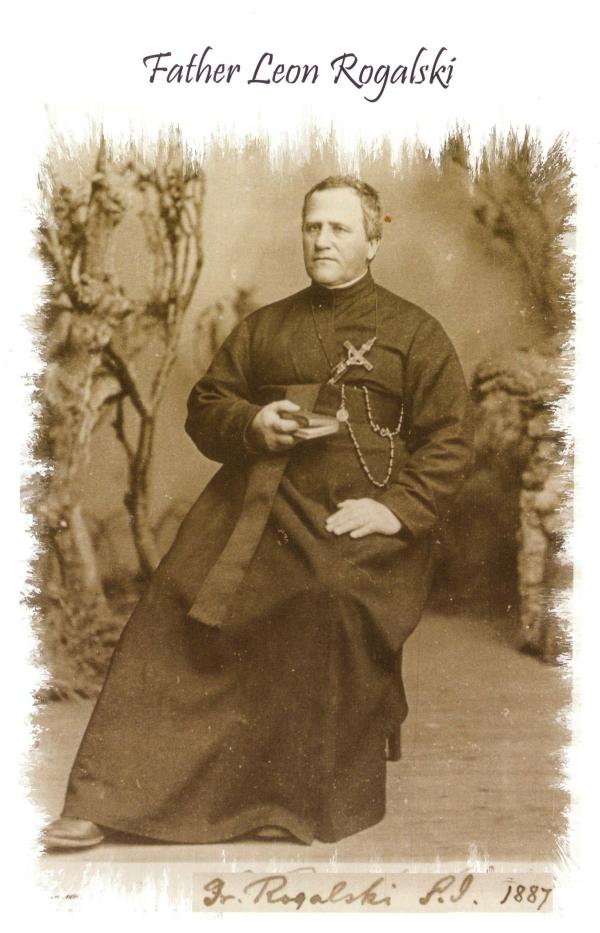 Father Rogalski
The Poles continued their custom of celebrating the feast of Corpus Christi at Sevenhill with the annual procession of the Blessed Sacrament in the grounds of St Aloysius' church.  A blank cartridge salute was fired as the canopied Host passed by.  Displays of such old European customs, which were part of the early life of Sevenhill, gave touches of colour which were quite different from the usual life of the average Australian settlement.
For the next 30 years, there was a thriving religious and social life around the church.  The school attached to the church opened in 1871.  It provided the basic education — reading, writing and arithmetic, but Polish and music were also taught.  In later years Mother Mary Mackillop's Sisters of Saint Joseph ran the school prior to the State Government taking it over.
A PERIOD OF DECLINE AND REBIRTH
The population of this remarkable settlement began to decrease when many of the inhabitants, finding their holdings far too small for expansion, joined in the great move when northern areas of the State were opened up.  By the 1890s their numbers were greatly depleted.
By 1893 the remaining Polish community transfer the title to the church and the school to the Archbishop of Adelaide and in 1924 the school closes.
The St Stanisław's church and the school falls into disrepair and with the passing of the years becomes a ruin deconsecrated in 1950.
ONE HUNDRED YEARS ON, A NEW SEARCH FOR FREEDOM AND A PLACE TO CALL HOME.
Around one hundred years after the first pioneers fled Polish regions in search of new opportunities as well as religious freedom in a developing State, a second wave of Poles; (displaced persons, as a result of the Second World War (1939-1945), of Nazi and then Soviet occupation of their homeland) make a long and reluctant journey to South Australia.  Unable to return to their beloved country Poland, they seek to start a new life on the other side of the world.
In taking the long journey to an uncertain future, they discover they have not been the first Polish people who sought freedom in this country.  Their discovery of an earlier 'Little Poland' in the Clare Valley gives them hope and inspiration.  Thousands of kilometres from their homeland, the Polish spirit is reborn as a new wave of migration honours those who came as pioneers over one hundred years earlier.  The restoration of the church of Saint Stanislaus (Stanisław) Kostka and the establishment of a museum within the attached rebuilt school rooms soon becomes a place for pilgrimage, to tell the story of those pioneers and of their own sacrifices and journeys to freedom.  Once again, a "Little Poland" is born, celebrating Polish faith, culture and freedom.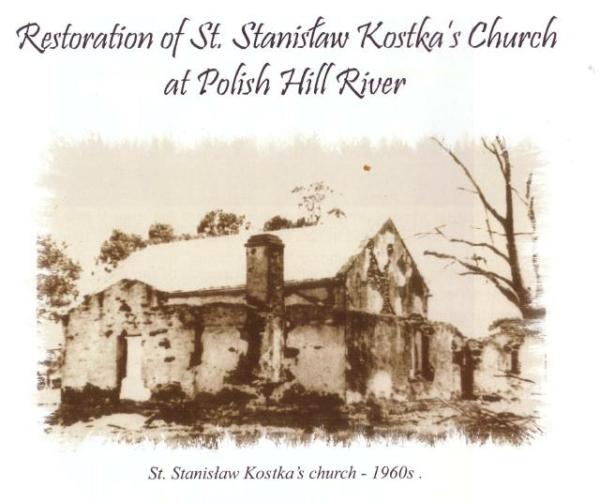 Restoration of the church
WWII DISPLACES MANY MORE POLES
In September 1939, with a NAZI invasion and a secret pact with Russia, Poland is once again occupied with many of its people suffering displacement, being sent to prison / concentration camps or to Germany to work in factories and farms.  By the time the war ends in 1945 many families are left shattered .
Polish post Second World War Displaced Persons, unable to return to their beloved Poland because of the Soviet occupation and Communist rule, migrate to South Australia to begin new lives in exile.  Many are unable to work in their pre-war profession as their qualifications are not recognised.
To fulfil their obligation of paying for their passage to Australia, work on road construction, in factories, building railways etc.  Gradually they begin leaving the migrant camps, find work and strength to rebuild their lives and communities.
As a post WWII Polish community emerges in South Australia, news of an earlier migration and the establishment of a Polish settlement, church and school in the Clare Valley galvanises them into undertaking the restoration of the Church and the rebuilding of the school.
Under their care the Church of St Stanislaus (Stanisław) Kostka and the attached school now stand restored and developed as a historical museum.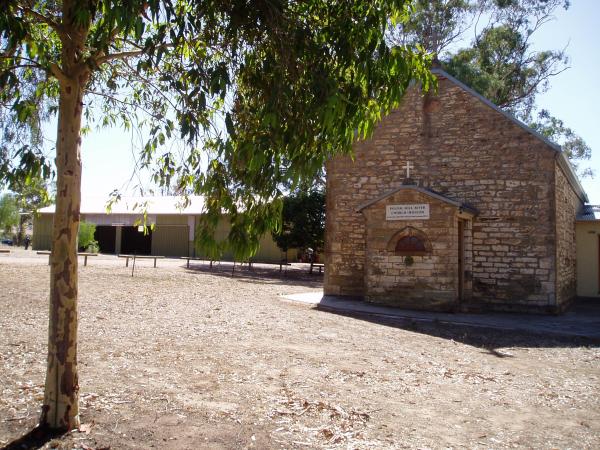 The Church museum
LASTING REMINDERS OF A POLISH INFLUENCE
The church of Saint Stanislaus (Stanisław) Kostka does not stand alone as a memory of those Polish pioneers. In St Aloysius' church grounds at Sevenhill is a wayside chapel built in dry stonework with a Gothic arched entrance, erected almost 150 years ago single-handedly by a Polish Jesuit Brother Ignatius Danielewicz.
For many years St Aloysius had a remarkable choir, a blend of Irish, German and Polish voices.
Some of the names appearing on official records of those early years at Polish Hill River are still known (although some in their Anglicised forms) in the Clare and Sevenhill districts — names such as Młodystach, Przybyła, Małycha, Nykiel, Połomka, Pawelski and Rzeszkowski.
These descendants of the early pioneers have formed the Polish Pioneer Descendants Group Inc.
Like the ruins of those tiny cottages, the names serve as footprints on the sands of time, and remind the present generation of a colourful and worthy segment of the local pioneering history.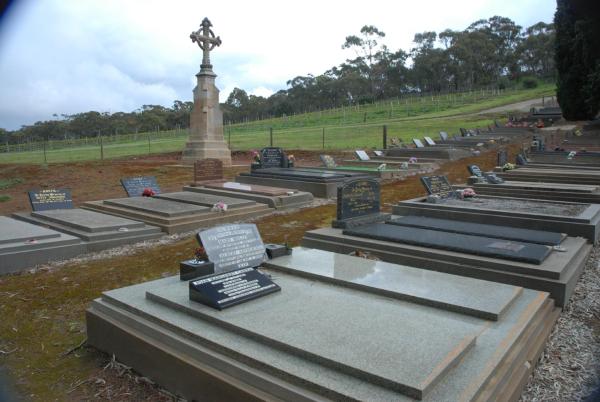 The cemetery at Sevenhills
DIVERSITY OF A MUSEUM
Whilst the museum may not be alone in recording the settlement history of South Australia, it must be said that the content is unique in presenting the Polish influences on South Australia's history and development.  Central to this are the artefacts dating back to the eighteen and nineteen hundreds which give us a hint of the conditions under which those pioneers and their descendants lived.  Their resourcefulness, strength of character and determination to ensure their Polish faith, customs and heritage lived on.
Whilst the church gives the visitor a feeling for the environment in which the earlier pioneers practised their faith, the old school rooms present artefacts and memorabilia of a pioneering age.  A child's cot, lanterns and the remains of a Polish school reader, photographs of the original Church Building Committee are but a few of the treasured items.  Modern day possessions brought by Post WWII Displaced Persons including the cases and trunks with which they travelled to Australia, daily prayer books in Polish, medals and citations received in the service of their homeland, furniture and equipment used in their homes or work are also showcased.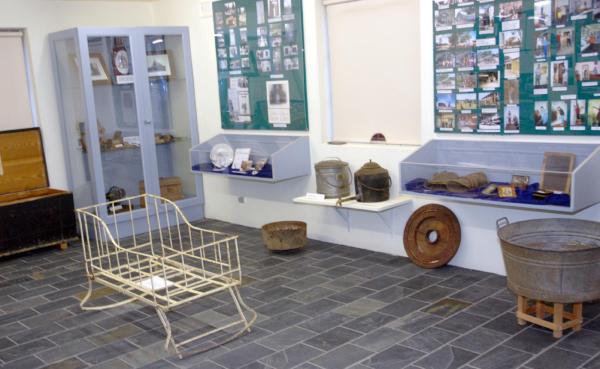 Inside the museum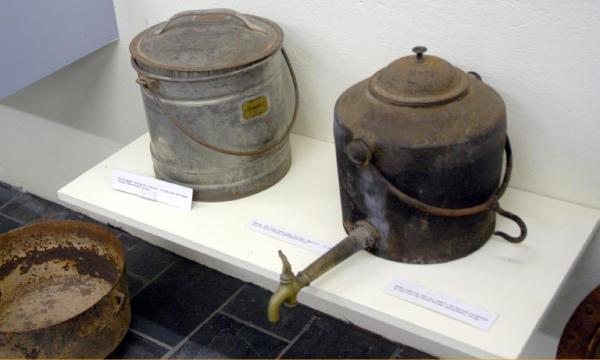 Inside the museum
Of significance is a Polish bible presented to The Right Honourable Mike Rann, Premier of South Australia from 2002 to 2011.  At his swearing in ceremony on 24th March 2010, he chose to be sworn in using this Polish bible.  The bible was presented to the Premier in December 2008 in St Mary's in Krakow, by the Prelate, Dr. Fidelus, a close friend and former assistant to Pope John Paul II.
VISITORS REFLECT
Many of the local, interstate and overseas visitors to the Church and museum have over the years been surprised and overwhelmed by the nature and quality of the displays reflecting on the culture and history of Poles in South Australia.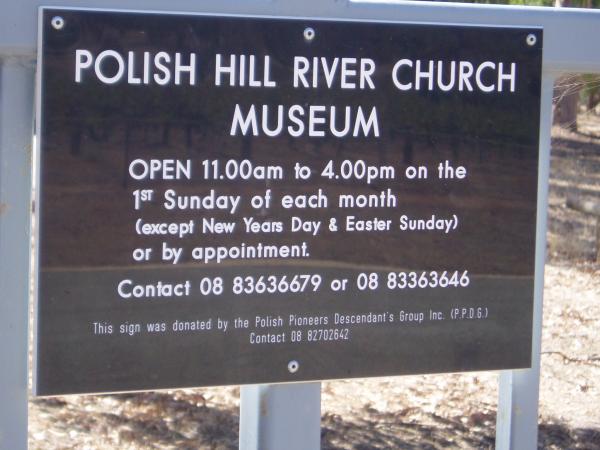 The museum sign
Some statements include:
"Good to see history and heritage preserved", "A rich culture and interesting history", "Very valuable part of Australian history", "History on display" and "Thank you to the people and descendants of this place".
If you live in South Australia or plan to visit, be sure to include a visit to the Clare Valley and Polish Hill River Church Museum.  Even if you don't have a Polish background, you will discover something of Australia's successful multicultural development as a nation.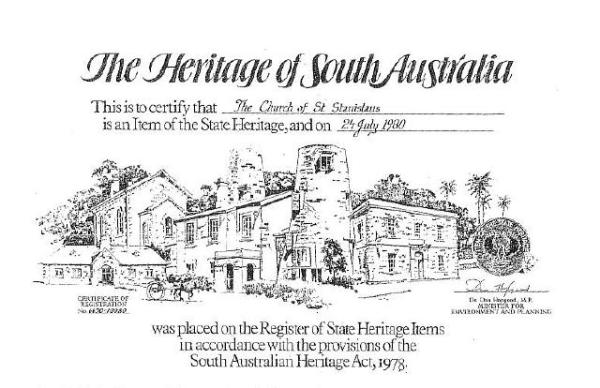 The heritage certificate
References:
The authors of this brochure acknowledge the use of the following sources:
1. Polish Hill River Church Museum Committee. 2006 "150 years of Polish Settlement in South Australia".
2. Stankowski K Thesis 2004 "Polish Hill River Cultural Identity from Material Remains"
3. Adam Zamoyski 1987 "The Polish Way"
4. Polish Pioneer Descendants Group Inc. Publicity Brochure
Authors and contributors:
Krystyna Łużny
Irene Sosnowski
Ursula Mrotek
Kamilla Springer
Edward Dudziński
Wacław Jędrzejczak
Jerzy Mrotek
Tony Pawelski
The Polish Pioneer Descendants Group Incorporated
An organisation  of descendants of  early Polish migrants to South Australia and others who share an interest in these pioneers, their lives and families and their impact on South Australia.
Formed in the 1980's to celebrate 150th anniversary of the founding of the State of South Australia and the beginnings of a Polish settlement in the Clare district in the late 1850's.
As well as acting as a source of information about family history and the lives of the early Polish migrants, the Group provides opportunities for members and their families to meet other descendants in pleasant social settings.
Polish Hill River Church Museum Information
Open: First Sunday of every month. 11am – 4pm (Closed January)
Admission: Donation.
Group Bookings and educational visits: PHRCM is available to tour groups, social clubs, organisations, charter tours and schools. An additional charge for special openings applies to cover the costs incurred by  volunteers to open the museum. Please ring for appointments.
Contact details: 
Jerzy: 08 8261 6983 
This email address is being protected from spambots. You need JavaScript enabled to view it.
For further information about the Polish community in Australia refer to the book by Lech Paszkowski Poles in Australia and Oceania 1790 - 1940 (1987) Australian National University Press.
The book was also published in the Polish language with the support of the Polish Community Council of Australia under the title Polacy w Australii i Oceanii 1790 - 1940 (2008) Towarzystwo Przyjaciol Archiwum Emigracji / Oficyna Wydawnicza Kucharski, Torun. The Polish edition received financial support of the Senate of the Republic of Poland.


Zainteresowanym czytelnikom polecamy lekturę książki Lecha Paszkowskiego Poles in Australia and Oceania 1790 - 1940 (1987) wyd. Australian National University Press.
Polska wersja powyższej publikacji została wydana pod tytułem Polacy w Australii I Oceanii 1790 - 1940 (2008) Towarzystwo Przyjaciół Archiwum Emigracji / Oficyna Wydawnicza Kucharski, Toruń. Książka otrzymała dofinansowanie ze środków Rady Naczelnej Polonii Australijskiej oraz Kancelarii Senatu RP.